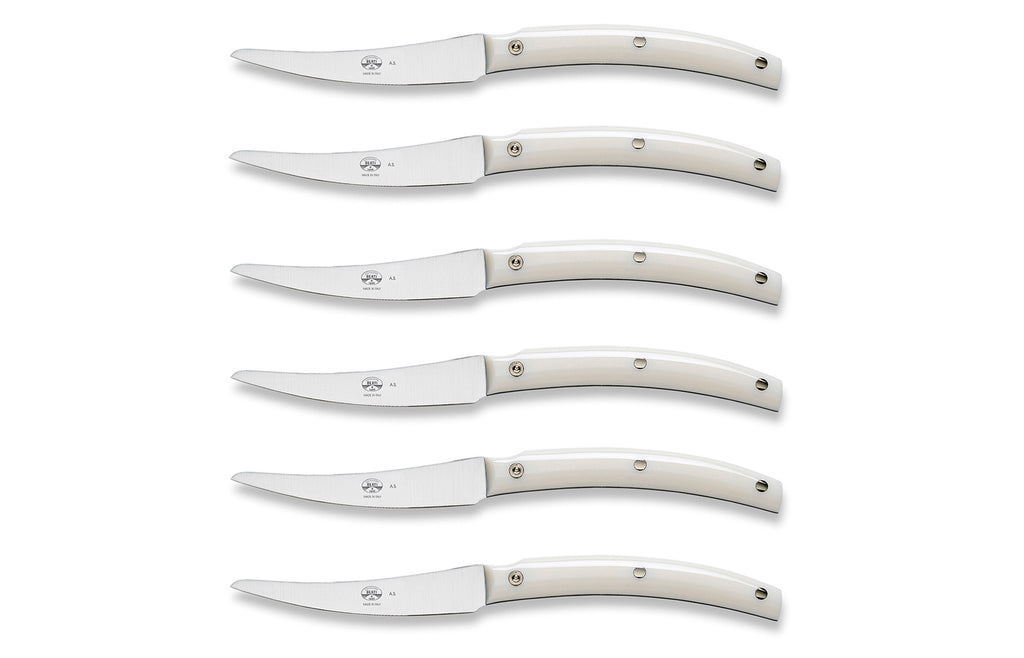 The Convivio Steak Knives, Set of 6, is a knife collection you will cherish forever. A must-have for the ultimate hostess, MATCH pewter—a valuable metal composed of tin, copper, and antimony—is handmade by artisans in Northern Italy. Everything is made with an alloy that is food-safe, lead-free, FDA-approved, and requires very little care—and each piece is marked with the manufacturer's signature "M." No matter what you're serving, MATCH's carefully considered details make the meal. 
Product Details
Pewter (tin, copper, antimony). 6 knives. Authorized Match retailer. Handmade in northern Italy.
Care 
Instructions
MATCH flatware and dinnerware are dishwasher safe on low heat with liquid dishwasher soap. If you have hard water or a commercial dishwasher safe, we do not recommend using a dishwasher. MATCH stemware should only be washed by hand. Pewter is a soft metal with a low melting point. It should never be placed in an oven, microwave, or exposed to an open flame. 
Size & Fit
9.1" L
Shipping Details
Please allow 5-7 days for standard delivery.
Return Policy
This item is available for return within 15 days of receipt.
Convivio Steak Knives, Set of 6