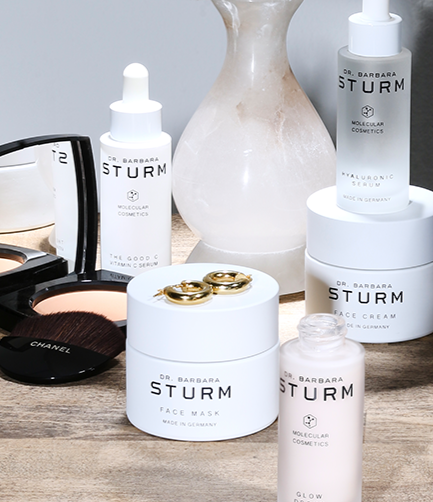 One of the most sought-after beauty doctors on the planet, Dr. Barabara Sturm is known worldwide for her anti-inflammatory approach to skincare. With a philosophy that encompasses the best science, as well as conventional wisdom, and products containing high concentration active ingredients, Dr. Sturm's skincare regimens are as simple as they are effective. With, the Bachelorette Party & Bridesmaids Experience is specifically tailored to the demands of bachelorette party guests, bridesmaids, and the bride herself. Every one of your most special guests receives a Dr. Barbara Sturm Glow Kit, Body Cream, and Body Brush to use during a Virtual Skincare Masterclass—and beyond—conducted via Zoom, or in-spa, by a dedicated Dr. Barbara Sturm aesthetician.
Dr. Barbara Sturm Glow Kits include: Travel Size Cleanser, Facial Scrub, Face Mask, Hyaluronic Serum, Face Cream, Anti-Aging Primer, and Glow Drops.
Upon purchase, a member of Over The Moon's customer care team will reach out to set up next steps. Further details provided upon request.
Bachelorette Party & Bridesmaids Experience