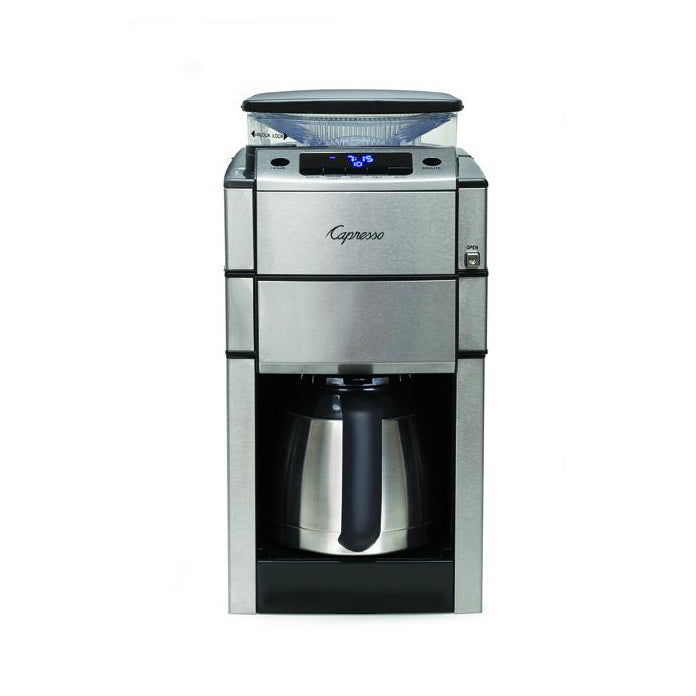 The fully removable water tank and bean container are just some of the most desirable features packed into the CoffeeTEAM PRO Plus line. It is widely known that fresh grinding your beans is the optimal way to prepare drip- style coffee, but for the first time ever, the CoffeeTEAM PRO Plus allows for complete access to the solid steel conical burr. The intricate design of the conical steel burrs provides for a higher gear reduction to slow down the grinding speed below 500 rpm. The slower the speed, the less heat that is imparted to the ground coffee thus preserving maximum aroma.
Product Details
Stainless steel. 1000W, 120V, 60Hz. Brews up to 10 cups of coffee. 1o-cup thermal carafe. GoldTone filter. Solid steel conical burr grinder with removable upper burr. 2-step grind and clean chamber automatically cleans grinder after every cycle. "Oily" coffee bean setting. Removable 7 oz bean container. 3 fineness settings. Charcoal water filter. Coffee scoop and cleaning brush included. Made in China.

Care Instructions
Remove bean container to clean with brush. Hand wash. 

Size & Fit
12.5" L x 8.25" W x 16.5" H, 14 lbs

Shipping Details
Please allow 5-7 business days for standard delivery shipping.
Return Policy
This item is available for return within 15 days of receipt.
CoffeeTEAM PRO Plus with Thermal Carafe